It's easy to dismiss apps such as Snapchat and Instagram as mere distractions, but they can work wonders for learning and teaching.
http://www.theguardian.com/higher-education-network/2016/jan/20/eight-smart-ways-to-use-social-media-in-universities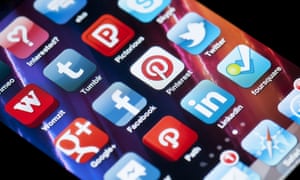 The key to app-iness: new tools can boost engagement and support collaboration. Photograph: seewhatmitchsee / Alamy/Alamy
It's hard to imagine a world without social media, yet many academics still view Twitter, Facebook and Instagram as distractions rather than tools. But these resources can be harnessed to create more challenging and stimulating learning environments. So what apps could you be using to lighten your load and liven up your teaching?
The popular photo and video messaging app can engage students with learning materials in real time. Beryl Jones, a lecturer at the University of Kingston, started using Snapchat at the beginning of the academic year to encourage questions in large lecture theatres.
"It's meant the students are more actively engaged," she explains. "What I hadn't envisaged was them taking screenshots of my slides while in the lecture hall and annotating them before sending to me. They used this to address things they didn't understand, as well as answering the questions I posed."4
Essentially an online sticky-note tool, Trello links pictures, videos, and documents in threads that can be shared between group members. The tool organises discussions into boards like Pinterest, so you can pin, share, and curate relevant information.
Six-second, looping videos are all over social media – and they can be a resource for higher education institutions too. They can be used to show off the university campus or promote events, but they're also a great tool for wider engagement.
If an interesting speaker comes to a university, Vines can be used to capture the highlights of the talk, and can be easily shared around the student community (perfect if an event is sold out). Vines also have the potential to go viral and can be shared between different institutions – if there's a keynote in Melbourne, students in London can find clips almost immediately.